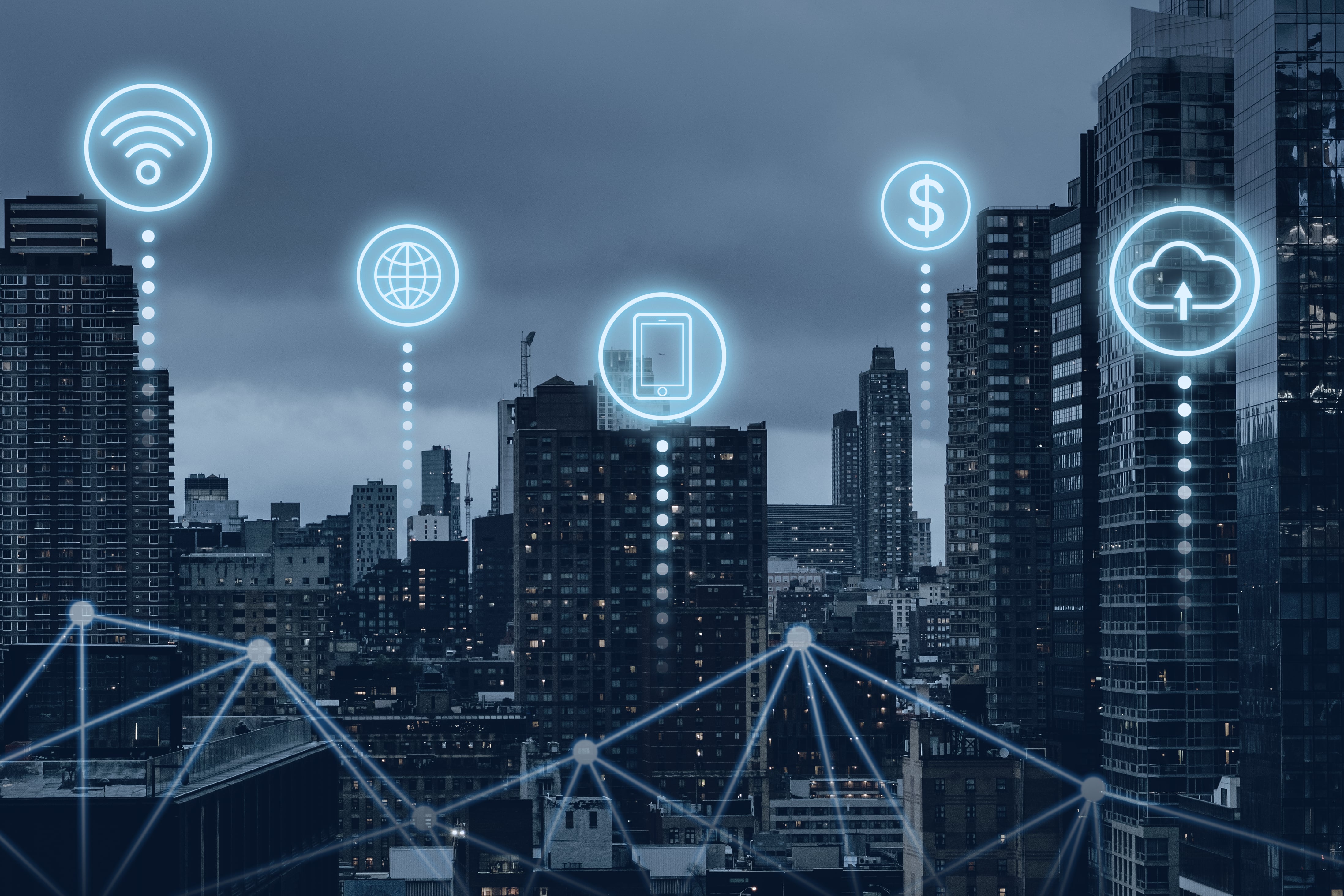 OrangeNXT and Microsoft combine deep industry expertise with advanced technologies, strengthening our longstanding alliance to help you address complex public sector issues. Together, we can help modernize your organization and meet ever-evolving citizen expectations through flexible cloud-based and mobile-first solutions.
Sustainability and building health
Sustainability and building health are becoming increasingly important. On the one hand you want to be able to configure the energy consumption and production in the most efficient way in order to achieve climate neutrality and to comply with all the regulatory requirements that apply for your buildings. On the other hand, it is becoming increasingly important to have your employees work in a healthy work environment that is continuously monitored and controlled in order to ensure an optimal temperature, humidity, CO2 rate, sound level, etc. In the unexpected event of a malfunction, you want your managing party to solve this proactively. We have combined this range of varying applications into a single, comprehensive solution.
Far from limited, the term "Smart Buildings" encompasses a wide range of use cases and technologies. Homing in on which ones are right for you requires a clear vision of the outcomes you're driving towards. Every enterprise has different motivations in pursuing smart spaces in addition to driving environmental and social responsibility, some might be motivated by increasing productivity and others by reducing energy and maintenance costs. Establishing this vision up front is key to the success of the project
With Azure Percept it enables you to develop and deploy AI models directly to your Azure Percept DK from Azure Percept Studio. Model deployment utilizes Azure IoT Hub and Azure IoT Edge. A typical scenario we are exploring with our customers inline with their going back to work program is a people counting solution. This solution is an expansion on our smart buildings platform and uses an open-source AI application providing edge-based people counting with user-defined zone entry/exit events. Video and AI output from the on-premise edge device is egressed to Azure Data Lake, with the user interface running as an Azure website. AI inferencing is provided by an open-source AI model for people detection. We can determine not only the number of people, but also via spatial analysis how many in a certain zone and even if they are wearing a face mask or not.
Mobility, sustainability, liveability
We see that there are major issues where mobility, health and fitness, and the climate are concerned. We see increasing urbanization. People commuting between their home and work, city-centre logistics, schoolchildren and tourists all make a significant contribution to these issues. We also see health and fitness becoming increasingly important. A healthy diet and sufficient exercise reduce the risk of illness and make you happier and more productive. And we see more people wanting a green environment, along with a conscious change in travel behavior resulting in lower carbon emissions.
We believe that the bicycle as a means of transport can be a significant part of the solution to issues surrounding mobility, health and fitness, sustainability and liveability, and that bikes can become at least equally as important for commuting and city-centre travel as cars and public transport. Bicycles take you quickly and predictably from A to B without any delays, and produce no or next to no carbon. Cycling is also beneficial to physical and mental health. We believe that we can use technology to increase cycling safety, and to make it more attractive and fun. And that together, we can get more people cycling greater distances.
goinGDutch emerged from an ideology centred on building on The Future Of Cycling, but which recognized that the challenges presented by urbanization and mobility are too complex to be solved by one party alone. Through this initiative, BAM Infra, Schiphol, Microsoft and OrangeNXT have joined forces, working as partners to benefit governments, businesses and end users. In the past, we would all provide our own separate pieces of the puzzle, but now we focus on the end result together, working on new concepts and services that place end users front and centre.
We are connecting the Living Lab Schiphol to local authorities and the business community, and responding to local ambitions, issues and situations as we do so. And by conducting research in collaboration with universities, we are connecting services and behavior to the achievement of common goals for authorities, business and industry, and users. In everything we do, the cyclist comes first. We aim to make bicycles a valuable alternative to cars and public transport and do everything we need to in order to facilitate and understand cyclists. We then use that information to build technological solutions. By making smart use of technology, we can remove any obstacles that stop people from cycling. To achieve this, the four companies are working together as they learn and then design and build new concepts and services that provide effective solutions.
Collect data, get insights, manage objects efficiently
According to the UN, we will see the world's urban populations grow from today's 55 percent to 68 percent by 2050. With almost a billion people on the path to be urban dwellers, most cities are still unfriendly to people with disabilities. As more people flock to cities, making our cities smarter and more inclusive will become increasingly important. The concept of smart cities is all about developing strategies that leverage data and technology to enhance urban life. The IoT plays a central role in collecting sensor data and then using the insights gained from that data to manage assets, resources, and services efficiently.
As city planners tackle the complex challenges of increasing urbanization, managing scarce resources, climate change, and creating safer more accessible cities, we need critical tools for city planners. A key aspect of IoT & technology solutions is that they should be intuitive, easy to use, and accessible.
We meet these challenges head on. Using smart software solutions, we enable fast, affordable and safe connections within and between infrastructural, logistical and distribution networks. Connections that ensure that the right information is available at the right place and at the right time for citizens, companies and managers, so all urban flows are coordinated optimally, whether we are talking about drinking water supply, waste processing, building climatization, solar energy or public transport. In this way we contributes to the sustainability, efficiency and smartness that heavily populated areas need to face the challenges of tomorrow.
Cities are complex entities but stripped to the basics, they consist of people & communities that interact with objects such as roads, buildings, and spaces, across a broad range of settings and contexts. And when cities are called smart cities, it means that various sensors collect data to get insights and use them to manage these objects efficiently. If we think of them as assets, then sound asset management must have real benefits. Minimizing asset downtime and increasing asset life expectancy being two examples. These translate into higher performance, lower management costs, happier asset users, and better sustainability. Where comes Azure Percept into play?
Various issues
In the cites, there are various types of issues:
proactive maintenance,
prioritization of work,
infrastructure condition assessment,
damaged roads, pylons, buildings, etc.,
blind spots on assets & conditions,
maintenance cost optimization.
To manage the maintenance of these critical assets, we need to obtain budgetary estimates for ongoing maintenance. It is crucial to establish a process that identifies damage as early as possible. Identifying surface damage and signs such as cracking, potholes, subsidence, or erosion are often the first indicators that urgent remedial action is required.
That's why, the resources needed to assess road conditions are traditionally very high, demanding considerable amounts of labor (manual surveying usually) and complex project planning to avoid mismanagement of valuable and scarce resources & inappropriate or inefficient budget allocation. Among other types of assets that are common in the cities, there are buildings utility structures such as power transformers, pylons and microwave towers or phone poles, rails, gasometers, and pumping stations.
To give you a real-life example, BAM Infra Nederland used a machine learning solution to rapidly identify, plan, and repair damaged roads. The increasing urbanization, the growing number of tourists and the increasing amount of home-to-work and freight traffic demand new solutions in the domain of mobility and a sustainable living environment.
You can listen to the full podcast here:
OrangeNXT · Podcast: AI on the edge for SmartBuildings and Infrastructure with Microsoft and OrangeNXT
Related products
Organisations often have large amounts of data that can add substantial value. digitalNXT Search creates clarity in the chaos and makes unstructured data accessible.

Read more

Especially in complex quality assessments, manual visual inspections are inadequate. We use image recognition by means of automating manual visual inspections to solve these inspection error problems.

Read more